Mondays are probably the most hated day of the week. Nobody likes Mondays. I love Monday evenings though, because my favourite shows are on! How I Met Your Mother, which has been renewed for another 2 seasons!! Such exciting news for die-hard fans such as myself, my husband and pretty much all our friends!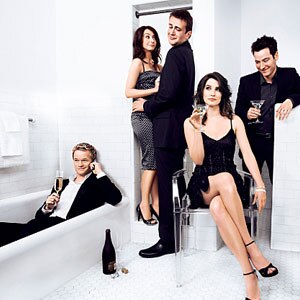 I also am loving this season of the Bachelor, as it's the first one I've ever followed. I started watching it because my husband was studying all the time and I was bored. Now that he's done school, I'm still addicted! Tonight is the "Women Tell All" episode. I just want to find out who he picked!
I also read some very awesome news this weekend. Helen Fielding is writing a third Bridget Jones book! Bridget Jones was considered to be the first "Chick Lit" Heroine. Now Chick Lit is a large genre of books, especially in the UK where all my favourite authors seem to be from!
The author also confirmed that she is working on the third Bridget Jones movie, although she is not sure if it will be following the same storyline
as the third book. If you haven't seen these movies, you have to watch them, they're hilarious.
All this good news makes me feel happy this Monday, along with the beautiful sunshine coming through my windows. I am studying for an exam and looking forward to my favourite TV night of the week. If your looking for something positively decadent for dinner, mosey on over to my friend Jen's blog The Baked Life . She made me a brie grilled cheese sandwich on Friday night. It was freaking amazing. We washed it down with my yummy sangria. Excellent evening, thanks Jen!
Enough procrastinating. More later this week!
xoxo,
T