I have been abandoning my blog way too often lately and I feel bad. I think it's a summer thing. My blogger list is way shorter than it usually is, people are just not blogging enough! I don't have much to say in the way of personal stuff I have been working around the clock lately and this month I will be finishing up my Personal Training Course!!! Yaaa freaking hooo!!!! I'm so excited to start this career and I'm trying to work out and eat as well as I can to set a good example for my future clients. Life is hard and sometimes you need a burger or an ice cold can of Coke (what do they put in that stuff?!! It's like crack!) but then you get right back on the horse, or in my case, the leg press!! :-P
Now for some celebrity gossip I've been meaning to write about:
The Bachelorette - does this event count as a celebrity? I'm not sure! Anyways, I watched the "Overnight Date" episode at work last night, despite a few interruptions for requests for protein shakes lol. It's funny, some of the guys that come into the gym are like "Oh my god, your watching that crap?" and then some of them walk in, turn to their friend and are like "Look at that dude, that Ryan guy is back on!" lol, you just never know with people sometimes. A few comments on this show:
I am definitely adding Fiji to my list of places I want to go! I couldn't find any pics of where they are but man does that place look amazing!
Ashley so going to pick JP. Blogs and tabloids are all over this info, she is apparently engaged to JP and they are both actually together and happy. Apparently ABC realised that keeping couples apart was damaging their relationship which obviously makes the show look like a joke when they air the final episode and the couple's relationship is already a disaster!
I don't know what's going on with her hair. It looked way better on the Bachelor than on this season. Is she not trying because all of these guys are there to impress her.
Seriously? You're on national television!! Where is your hair straightener? Or better yet, hairstylist? It's weird, she just seems like a different person on this season.
Also, I know they are setting someone up to be the new Bachelor but I just don't know who it will be?! People are talking about it being "Mr. Sunshine" Ryan. I think that would be interesting. Also Chris Harrison was giving some hints about it being Ben F so who knows. I guess we'll find out soon! The "Men Tell All" episode will be on on Sunday and the finale will be shown Monday.
Kat Von D and Jesse James broke up. Boo hoo, so sad. I hate to be mean but I really just don't get how anyone could not love Sandra Bullock? He seemed to have such a good thing going and he screwed it up. Maybe he needs some time alone to think about why he does things like that!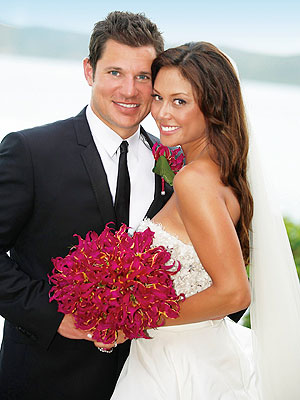 In happy news, on Saturday TLC will be showing "Nick and Vanessa's Dream Wedding. I am curious to see that, they seem like a nice couple and I sort of love televised weddings. My pvr will be busy this weekend!
I am also curious to see what a 10 million dollar gong show Kim Kardashian's wedding is going to be! She's apparently getting married on August 20th and I'm sure the E! cameras will be there!
That's all my celeb info for today!
xoxo,
T