Now that we are moving in 7(!!!) days, I am in full blown planning mode for Arianna's room. Of course I'm excited about decorating the rest of the apartment too, but I've waited a long time to set up her room!


I always knew I wanted to incorporate my favourite colours (coral and turquoise) into Arianna's nursery, but I couldn't picture it all in my head. The first thing I wanted to do was paint the walls. Our walls come painted a nice colour, thank goodness because I hate white walls, but they wouldn't really make coral and turquoise pop like I wanted to. So the walls are getting a quick little makeover courtesy of my parents.
the color I chose "Silver Trophy"
The first pop of colour that is going in the room is Arianna's beautiful glider that my family helped me make over, my mom carted it around back and forth to my uncle's, who painted it perfectly, and my mother in law made over the cushions with fabric that I picked out.
I am buying a second hand crib which will hold the change mat on top. The picture above is the same one I am getting and I'm hoping to change the knobs to the crystal ones like in the picture. So pretty and girly. The crib and dresser
along with the glider is probably all the furniture this tiny little room will need/hold.
My idea is to put the crib and dresser along side the straight wall, and then the glider in front of the window. Then maybe along the little wall by the door I'd like to put those little shelves to display books. Girl's gotta have her books!
My first plan was to order some crib bedding like the one above, or maybe fabric to sew it, but then I realised how necessary fancy bedding is, not to mention the fact to get it made is hundred of dollars. I plan on eventually getting a breatheable bumper to ease my new mama mind, and all the baby needs for bedding is a crib sheet. Of course, I do want a crib skirt too, but I found an inexpensive pretty aqua one. In order to get the pop of coral I want, I'm ordering a matching change pad cover and crib sheet in this beautiful colour. Which may or may not even be coral, but I love it. I want more pink-y than orange.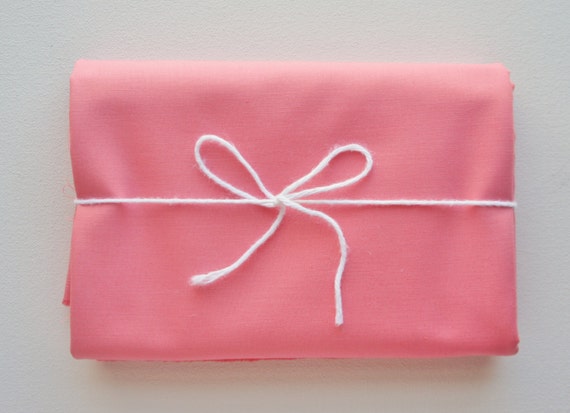 Later down the road I would love to make Arianna a cozy little quilt or maybe even a duvet cover, but for now she sleeps in her little
sleepsuit
and once she outgrows that we will move into a regular sleep sack.
Those are all my plans so far and I can't wait to put it all together!